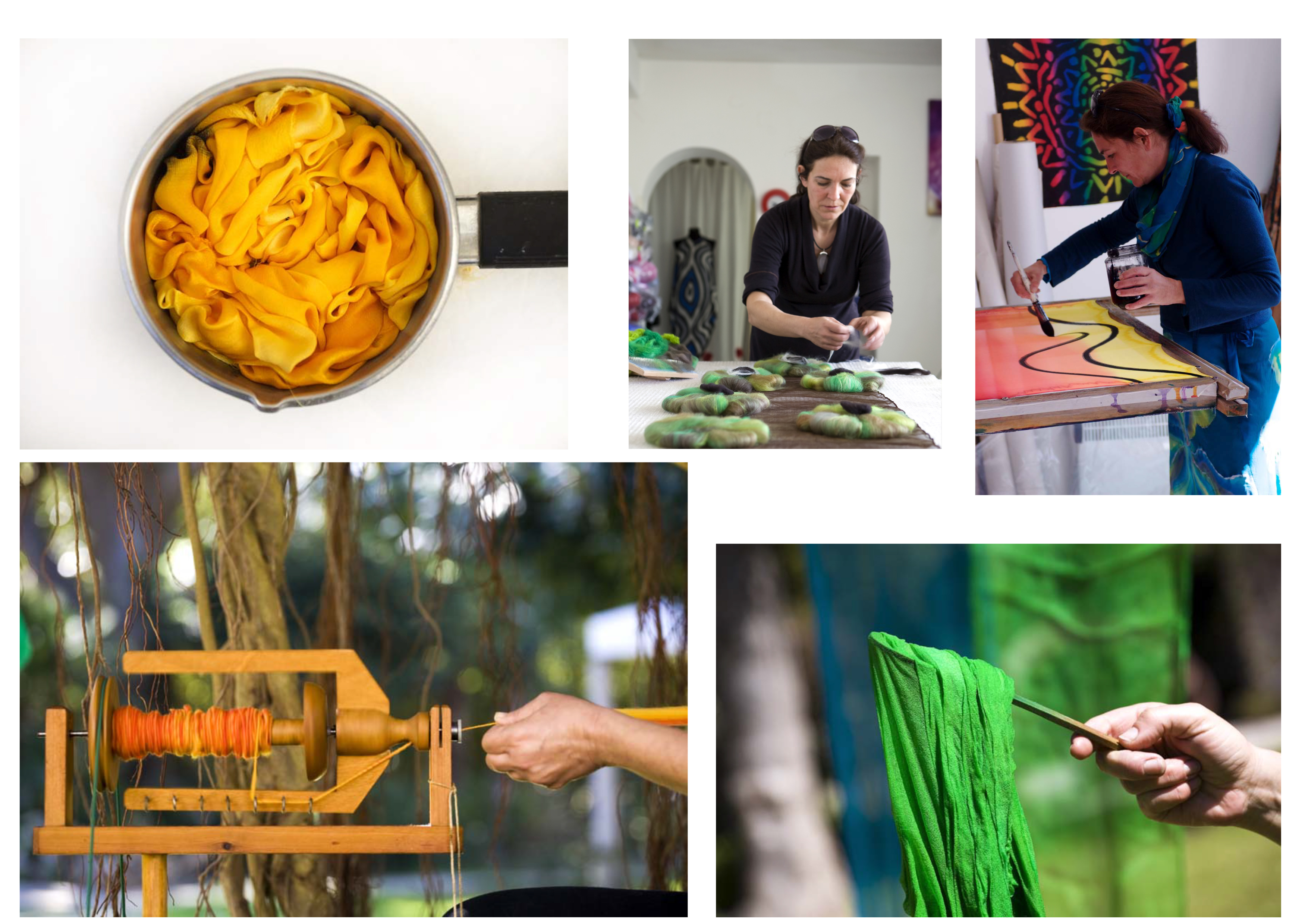 The garments are handmade and, consequently, there are not two equal ones. Each garment is unique.

DYEING

My first memories are shades of moving colours, like the leaves and the ears of wheat moved by the wind, the reflections of light on the water, the clouds in the sky. Even today, I see the world as colours and shapes in movement that I try to reproduce with the dyeing technique.
I paint individually the various fabrics, yarns and textile fibers that I use with colours that I composed.

The dyeing process consists of various colour baths in boiling water, a treatment that only highgrade materials can overcome by applying various techniques depending on the desired result. However, given the spontaneity of the processing, the result of the tincture is from time to time unique and not perfectly reproducible.
The final garment is resistant to washing (by hand or dry) and to light and can be ironed.
Over the years I have developed techniques that allow me to use a very limited amount of water during this production process and not to release any color in the dye water.
PAINTING

Still today, I am delighted whenever I see a lizard, a feather, a flower, a rainbow. I see the beauty and genius as if it were the first time. I try to capture the emotion of that moment when I paint.
For 30 years, I have been experimenting with different painting techniques depending on desired result. Fabrics, mostly silks, are painted once tensioned on the frames with professional colors that require steam fixing in a specific oven,powered with electricity from renewable sources. The painted fabric is first rolled up in an absorbent paper, that is reused over and over again, then inserted in the oven where it is kept for 5 hours in a steam bath. In order to reduce my water consumption, I use a specific sponge brush for every colour, this way I never have to wash them.
The result is that the colour is totally integrated into the fabric, not perceptible to the touch.
I sign all of my textile creations with my registered logo.
The finishes and edges of the silks used are handmade.
OTHER TECHNIQUES

Although most of my creations are dyed, painted and/or felted, I love and respect all the textile techniques because each one has a different possibility of expression. Sewing is almost always present in my garments while knitting and crocheting allows me to combine different yarns and play with colours and with my beloved fringes.
All design rights are reserved for me.